January 10, 2021
Expensive Art by Dead Artists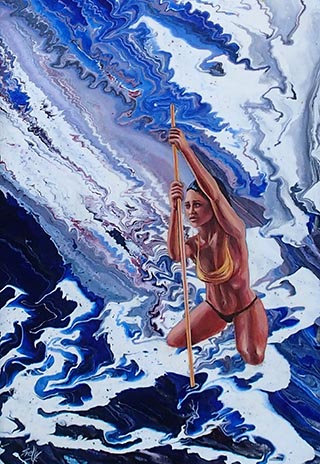 The world's most expensive art is auctioned off in the world's biggest-named art auction houses.
You will not find the most expensive artworks sold last year in Fine Art South's artwork collection, but there is a link below to view them if you want to. They are all by dead artists. And oddly enough, all of the artworks were by (presumed) male artists. That leaves out half of the world's artists, which is very strange, as though women artists don't exist. (We do).
Here is a link and intro to the story about the art that did sell for millions. Source – Artsy
In a year of change heavily impacted by COVID-19, the art market has had to adapt to a new normal. The traditional big sessions of May and November in London and New York were replaced by a series of digital events and hybrid spectacles mixing live and virtual, with global live-streamed sales. The digital revolution combined with the boom in private sales helped stem more severe declines in turnover at auctions; [note – auctions, n

. . . But we also witnessed a watershed moment in the development of the online art market, which was a direct repercussion of COVID-19 restrictions that made physical gatherings impossible and accelerated virtual transformations already underway. Digital auction platforms have proven to be the most popular, which explains the jump in online-only art sales at Sotheby's, Christie's, and Phillips between January and August this year, where online sales rose to $596.7 million from $168.2 million for all of 2019."
That's a lot of money. Are small galleries and art sales small business making anything near that type of money? Of course not. This is the part that makes me sad. Instead of investing their money in art by living artists, people want to invest in art by dead artists. Why do they want to do that? They perceive that it has higher value, but that is a flawed perception.
Above is one example of a dead artist's art that recently sold for over $46 million dollars. It's not that remarkable to warrant a $46 million price tag. You could say that is a grossly over-priced piece of art. But the artist, Roy Lichenstein, died in 1997, so it's considered more valuable. But that doesn't make a lot of sense. Every artist eventually dies and every artist produces a finite amount of work in their lifetimes. Some of us art still producing that artwork, and some, who have died, are not. But it's all a finite amount. By that logic, all of our artwork should have equal value. Male and female produced art should also all have the same value. (That issues is for another piece of writing)
By investing in the art of a living artist, the collector is investing in two things: the value of the art, and the value of the artists' future career. They are helping themselves by acquiring value, and helping the artist by encouraging future work.
By investing in direct art sales online, like through Fine Art South, the collector is investing in a small business, and in the local economy, which is probably not the usual local economy of a big-house auction, whether in NYC, Los Angeles or Hong Kong.
The collector is also investing in the future of artists who run their own art sales businesses, and not at the mercy of big auction houses and big New York Galleries.
The world is full of beautiful art by talented artists. I hope that in 2021, collectors realize that, and invest in the art that breaks them out of their small bubbles of famous names and into the art represented by small business art sales websites, like Fine Art South.
And don't forget that women artists are producing half of the world's art – and it's extraordinary art. My favorite art is by women artists.
Below is an example of a living artist's artwork that is valuable – but not expensive. You can see the original here and buy a print of it from this page. The painting is titled "Navigante" and it's acrylic on panel.