"In our information-technology age, we're constantly bombarded by headlines that can weigh on our psyches — families separated at our border, LGBTQ-rights suppressed in our workplaces, images of police brutality on our phones, victims of sexual violence publicly shamed before our eyes. The list goes on. The overwhelming weight of it all can be nearly paralyzing.

In MODA'S new exhibition, The Design of Dissent (through February 2), curators Milton Glaser and Mirko Ilic share graphic work that addresses social and political concerns worldwide. The exhibition features the work of more than 80 artists and designers, including commissions by Amplifier, the U.S.-based design lab that builds art to amplify the voices of grassroots movements and assists artists in offering open-source free downloads and prints.

"The Design of Dissent attempts to illustrate the voices and artists emblematic in the fight for justice and democracy, from the International Women's March to climate-change protests. Enter the museum on Peachtree Street, and it's clear that people are mad and that MODA isn't afraid to show it. Some institutions shy away from taking a stand on social issues, but MODA's latest exhibition is loud and in your face. Visitors can make no mistake that the collection of work stands in bold disagreement to the current political powers at large.

The exhibition entrance features a collage of posters and photos that hangs along both walls. You'll see ink drawings titled Young Abe Lincoln, Margaret Mead and Malala Yousafzai by Maine printmaker Valerie Wallace, done for 2019's March for Our Lives. The opposite wall features collections of work that supports LGBTQ+ rights, which invites visitors to ponder diversity and its impact.

The Amplifier piece Defenders of Truth: Dr. Joni Wallis (2016) by California artist Kate DeCiccio depicts Wallis, a cognitive neurophysiologist and University of California at Berkeley professor, who came out as a trans woman in 2016 in a field difficult to enter for both femme and LGBTQ-identifying people."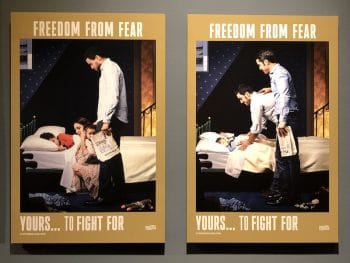 For Freedoms Series by For Freedoms (2018), another set of juxtaposed posters, hangs nearby. The photographs in these posters by New York City artists Hank Willis Thomas and Eric Gottesman reenvision American artist Norman Rockwell's paintings of the Four Freedoms, as articulated by Franklin D. Roosevelt in 1941 — freedom of speech, freedom of worship, freedom from want and freedom from fear. Their stylized scenes reference Rockwell while bringing new inclusivity to the discussion of America's core values.
You'll also see familiar imagery that is pointed and subtle. Copper Green's iRaq posters (2004), for example, appear to advertise early-generation iPods. Look more closely and you'll see that the parody uses a horrifying torture image from the Abu Ghraib military prison to protest America's occupation of Iraq. Copper Green, a New York collective whose members prefer anonymity, takes its name from the one the Pentagon used for its program of prisoner abuse in Iraq.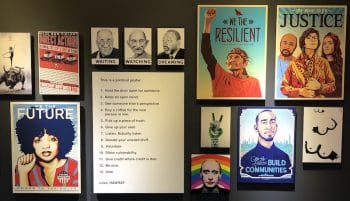 Elsewhere you'll find MODA's interactive space. The walls showcase work that addresses climate change and features leading activists. Three audiovisual works share moving stories of art's impact and its ability to connect communities and transform narratives. As is the custom here, MODA offers visitors a chance to create their own art. Tables with chairs hold colored paper, markers and other supplies so anyone who wishes can illustrate their own cause.
The Design of Dissent's subject matter is sobering, but the exhibition radiates with energy, acceptance, determination and unity. It truly illustrates the power of art and design to radically bring truth to power and a voice to the voiceless."